OK, scroll WAY down, see all of the people below who have already signed up? We know you want to join them so go to the "Buy Tickets" page and get your tickets asap. And don't forget to fill out your profile on the "Classmate Profiles" page (everyone is interested in you!), sign the "Guest Book", and RSVP on the "RSVP" page. Come on, we're counting on you. Without you there something will be missing....

U!

Here are a few reasons to attend....
38 Reasons to attend your 50th Class Reunion...
1. Because you still can! Life is short... Each day and milestone should be celebrated!

2. Because you're never too cool for your high school friends.
(And you'll be missed if you don't show up!)

3. Your family is tired of hearing your stories and you want to relive them with someone who actually cares.

4. Umm... who else is going to fill in the missing blanks in your slipping memory?

5. If we get a good turnout, we're going to take a group picture in the form of a 70!
(Probably not, that sounds lame...)

6. You can share a drink with your friends without having to sneak into the bars with a fake ID.

7. Because you still have a crush on... wait, do you even remember?

8. If you don't show up we'll have to assume you have big, long, or even no hair. But really, no one cares about your hair, they just want to see you!

9. You know you REALLY want to.

10. Hey, who cares if we no longer fit into our old bellbottoms?

11. Network, Network, Network
It's a small world and you'll be surprised at how many "coincidences" life really holds

12. Because you're still upset that you were only voted runner-up for something, you just can't remember what it was...

13. Enjoy an evening without the Grandkids, or the kids!

14. You've always wondered what happened to....
(Darn, can't remember!)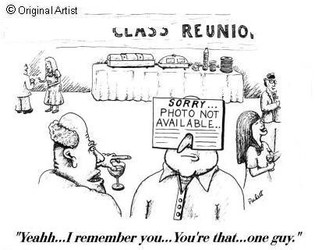 15. You can finally show off your pictures of your family, pets, vacations, hot car, etc. etc.

16. You can renew old friendships. There's really nothing like an "old" old friend!

17. You can make "New" friends!

18. Get the latest gossip, at least what can be remembered.

19. Because if you don't show up, you might be the subject of that gossip!

20. See and be seen.
(because we might not remember, but it's fun to people watch!)

21. See if that old "Crush" is still what you thought they were, or at least what you thought you remembered....

22. Because YOU ARE CURIOUS and have to see what everyone has been doing for the last 50 years!

23. Did we mention there would be lots of FUN?

24. You love reunions!

25. You have nothing better to do...
(sitting on the couch doesn't count!)

26. Because you want to go where everybody knows your name.... (and it's not Cheers)

27. To talk about the "Good ol' Days"
When life seemed so simple... or did it?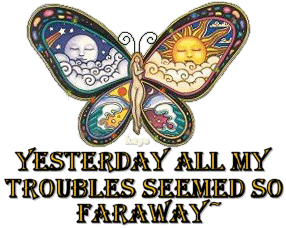 28. You'll laugh, cry, and reminisce with some of your oldest friends.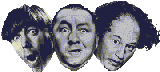 29. We're going to play music that you "Remember", and maybe even understand and dance to!



30. Even if you didn't like school, don't worry about it, we're sure you will find something to laugh about after all these years.

31. You can exorcise all of your high school demons!

32. Because you know you really want to!

33. You won't have to lie about your age, because we know.

34. Did we mention there would be lots of FUN?

35. It gives you a chance to humor those who have tried to plan these things for the last 50 years!

36. Because some want an excuse to go back "Home"
(even if it is only for a weekend)

37. Because we REALLY WANT TO SEE YOU!!

38. And finally, studies have shown that those who were initially hesitant about attending their reunion discovered it was the most fun they had experienced in a long time!
(And if you don't come you'll have to write this 100 times)
Guest
Peg Hemenway (LeMay)
Michael LeMay
Paul Swan
Carol Minogue (Johnson)
Jan Watkins (Swan)
Julie MacMullan (Dietz)
Nanette Hubert (Hubert Prolo)
Michael Armstrong
DAN KABAT
COLLEEN CONNERS (KABAT)
Gretchen Rollie (Mitchell)
Dennis Haffeman
Bruce Jorgensen
Bill Hahn
Jodie Kraemer
Jann Hall
Glen Sorenson
Mary Jane Witwicke (sorenson)
William (Brad) NA (Bennett)
Jeanette Schmid (Bennett)
Linda Dreis (Turner)
Denise Dillon (Hohn)
Andy Jones
Deb Grivna (Jones)
Brad Dupre
Scott Montgomery
Bo Kerchner
Susan Withy (Chaffee)
Julie Schlueter (Engen)
Deborah Kyle (Casillas)
Jean Adrian (Kotila)
Hazel Walters
Joseph Wyland
Lynette Leander
Ron Leander
SuzAnne Banks (Moore)
Greg Oien
Steve Jacobs
Kay Mackaman (Oien)
Karen Campise (Murphy)
James Murphy (Murphy)
Tom Browning
Jan Farrell (Browning)
Patty O'Neil (Marschke)
Stephen Phillips (Phillips)
Gina Fayling (Odean)
Bill Odean (Odean)
Cathy Gustafson (McCormack)
Barbara Parker (Jorgensen)
Don Merrell
Judy Shaleen (Merrell)
Amy Coad (Hammitt)
Tom * (Hammitt)
Deb Casper (Casper)
Mary Innes (Christiansen)
Julie Engen
Gary Engen (Engen)
Robin Gillispie (Gillispie)
Val Mondor (Mondor)
Steve Gamble
Sue Shaughnessy (Rehbein)
Tim Vadnais
Diane Jorgensen (Nikkel)
Jeff Nikkel (Nikkel)
Wendy Larkin (Dupre)
Jim Manteufel
Geri Poels (Longville)
Wendy Dupre
Laurie Smith